Home > Products > HART On CD > Updates > Version 1.95
HART On CD
Version 1.95 Update
This page contains download information for the HART On CD version 1.95 update.
Below is the link you can use to download and install the HART On CD update to your computer. If you need instructions, click here

Click here to download the HART On CD 1.95 update now.
Download Size: About 55 Megabytes
If you get a warning from Norton Antivirus,
click "Run this program anyway" (as shown below).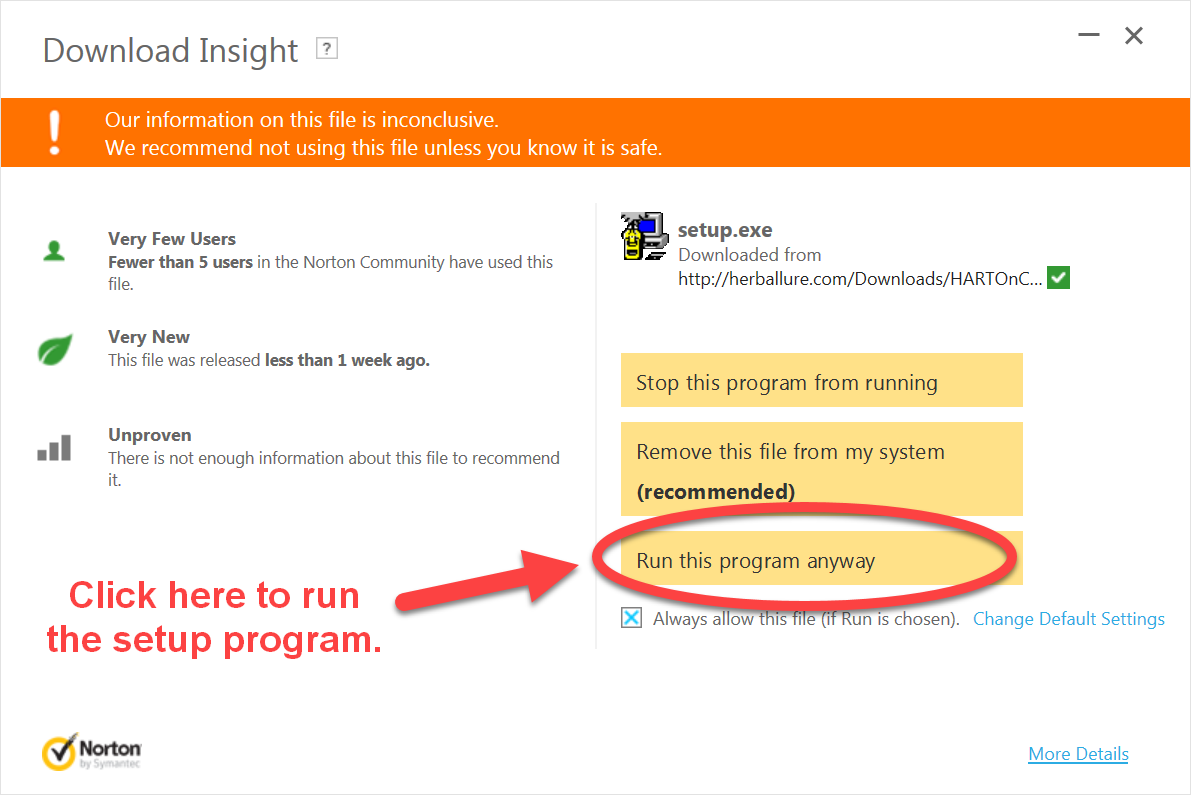 Description
This page contains a link allowing you to download an update to the HART On CD computer program. This update upgrades version 1.94 to version 1.95.
Release Date: May 1st, 2018
Changes Made in This Update
This update provides the following changes to the program:
All HART product documents have been updated.
All new NSP products have been added.
New ailments and ingredients have been added.
A licensing extension has been applied.
The A to Z Ailment Index page has been updated.
Search results can now be viewed more easily. The resulting product list can now be copied and pasted.
Step 1 - Download the Setup.exe File
This step downloads the HART On CD upgrade-program to your computer.
Single-Left-Click the download link (near the top of this page).
Multiple windows may appear asking if you want to allow this program to be downloaded to your computer. Be sure to click the "Run", "Open", "Save File", or "Allow" buttons on each of these windows.
Step 2 - Run the HART On CD Upgrade Program
This step runs the HART On CD upgrade program on your computer.
Once you click the "Run", "Open", or "Allow" buttons in the previous step, the HART On CD upgrade program will begin to run. Just follow the on-screen instructions until the program notifies you that it is finished.
If you're using Firefox (and most of you are), type Control-J. The "Downloads" window opens. Now right-click on "Setup.exe" at the top of the window. Then click "Open". Now just follow the on-screen instructions.
If you have an problems, please call our Technical Support phone number.