Home » Products » Pet Health Charts for Birds
Pet Health Charts For Birds
Herbal, Homeopathic, Acupressure and Flower Remedies
for Dogs, Cats, Horses & Birds
On This Page - Pet Charts for Birds
Herbs • Homeopathy • Acupressure • Flower Essences
• Get All Charts for Birds, Save A Bundle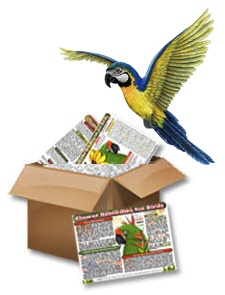 See Our Other Pet Charts Too
Start using natural remedies to activate your pet's own self-healing processes. Instantly develop skills that you can use now - and perform anywhere to help your dog, cat, horse or bird.

Quickly find ailments and symptoms and then confidently choose the right remedy—now you can take a pro-active role in helping your pet become well and stay well.

Learning about natural pet health care and being able to use herbal medicine, homeopathy, acupressure and flower essence remedies is easy and fun using the Pet Health Charts.

If you really want to take a more pro-active role in your pet's healthcare without feelings of doubt, helplessness and lack of knowledge, then these natural healing tools are for you! They will give you the confidence to know when to act and what to do. Being able to treat early symptoms of illness or injury in your dog, cat, horse or bird can help you avoid more serious conditions and chronic disease.

Pet Health Charts are a life-saver and a must for all pet owners. Perfect for newcomers, students, teachers and holistic professionals.
Pet Health Charts are Universal! (NSP "Cheat Sheet" Available)Pet Health Charts list generic remedies and are not specific to NSP Products. We offer a separate NSP "cheat sheet" (as a free downloadable PDF) for those who wish to use Pet Health Charts with Nature's Sunshine Products. Just look for the "Download Cheat Sheet" link under the "Buy Now" buttons.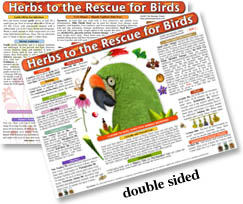 click to zoom
8 ½" X 11" - Made of durable laminated plastic
Choosing herbal remedies for your bird just became a whole lot easier with this chart tailored to an avian's needs. Beautifully illustrated and packed with information, this simple to use visual guide will help you choose the right remedy in no time, every time.
The Herbs to the Rescue Chart for Birds stresses common, easily available herbs. The remedies used were chosen for effectiveness, ease of use, and have been time and experienced tested.
This double-sided chart provides a wealth of practical advice for the newcomer and serves as a reliable quick reference for the herbal pet practitioner.
Cat # HERBB Price $14.95
Download NSP "Cheat Sheet" for Birds (free)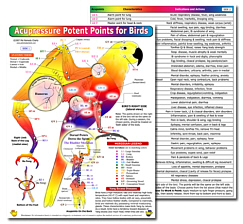 click to zoom
8 ½" X 11" - Made of durable laminated plastic
With your hands you have the potential to relieve your bird's everyday aches, pains, and ailments without having to always resort to giving drugs, to improve their health.

Acupressure is an ancient healing art that uses the fingers to stimulate key points on the body that, in turn activate the body's natural self-healing processes. With this chart, it is a skill you can use now - and preform anywhere to help your avian companion.
This double sided chart is packed with treatment plans and advice for the beginner as well as a reliable in depth avian acupoint reference for the veterinary professional.
Cat # ACUPB Price $14.95
click to zoom
8 ½" X 11" - Made of durable laminated plastic
The beauty of homeopathy is that there are no unwanted side effects to the medicines, they are safe to use on newborns as well as geriatrics. Homeopathic remedies are very inexpensive, and can be found over the counter at most progressive health stores or purchased via the internet.

This detailed chart provides guidance in selecting the appropriate remedy across a wide range of illnesses and conditions that are common to horses.

The Homeopathic Remedy Chart for Birds was created for people who want to confidently use homeopathic medicine as fully as possible in the care of their avian companions.
This double-sided chart provides a wealth of practical advice for the newcomer and serves as a reliable quick reference for the herbal pet practitioner.
Cat # HOMB Price $14.95
Flower Essences Chart for Birds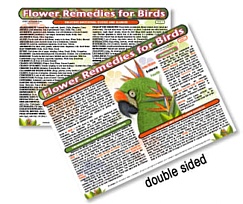 click to zoom
8 ½" X 11" - Made of durable laminated plastic
The Flower Remedies Chart for Birds is an easy-to-use, self-help guide to the practical uses of Flower Essences and their applications and administration in diseases, injuries and emotional states that commonly affect birds.

Flower Essences are affordable, safe and effective liquid remedies that can be integrated into and compliment any other form of therapy.

The Flower Remedies Chart for Birds is beautifully illustrated and packed with information. This quick reference helps you in matching ailment and remedy, mixing the remedies, how to administer them, and dosing and frequency of use.
This double-sided chart provides a wealth of practical advice for the newcomer and serves as a reliable quick reference for the herbal pet practitioner.
Cat # FLOWB Price $14.95
Get All Charts for Birds, Save A Bundle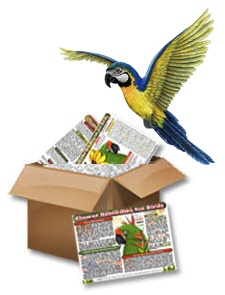 Get all 4 charts (Herbs, Homeopathy, Flower Essences & Acupressure Points) in this complete set just for birds.
Cat # 3BIRD Price $53.00
Save 11% ($6.80) over buying charts individually
See Our Other Pet Charts
"I just wanted to let you all know that we have been very pleased with the charts and our results from using them… We were so upset when our dog was diagnosed with arthritis!... Using the herbal remedy chart was easy and we have seen a huge improvement in her pain and mobility".
Tiffany M.
Both my dog's vet and I are very impressed with your charts, which have helped me find the right remedies to help with regulating my dog's thyroid function. Very effective... Many thanks.
Heather
My beautiful collie has not been so comfortable in years and is once more eating normally without all the pain and bloating we have been struggling with for so long. He just seems to be so much happier and healthier and we are so pleased that we got your chart and followed it regarding Digestive Support...
Wendy
Ever since using some of the herbal remedies on your chart my dog's ear seems to have cleared up - I am so relieved as it was terrible to see him in such a state. Thanks for a great chart that helped me treat my dog so quickly and effectively!
Dana
My two cats are 10 and 11 years old and they have had bowel problems and bloody diarrhea sense I got them. We were always in and out of the vets office and emergency clinic. I didn't like to giving them the veterinary meds and they didn't like taking them. I bought your Homeopathy to the Rescue Cat Chart, and they respond to my treatment choice from the chart fantastically (almost immediately). I only had to give them two doses of the remedy and that was over 6 months ago! I am new to natural medicine but feel safe using the chart and it really works.
Carla, USA
"Thank you so much for making your wonderful charts. Using the homeopathy chart enabled me to cure my dog of her bladder infections. Now she can live and get back to doing what she does best, playing and barking! Again, thank you so very much!!"
Christie
"Our 12 year old dog's liver enzymes were extremely high. I give my children herbal medicines and decided to do the same for Lucky. I ordered your Herbs to the Rescue for Dogs Chart and gave him one of the remedies listed. I took him back to the vet about a month later. His blood tests indicated that his enzyme levels were excellent!!! The vet requested info to recommend to his other patients. Several months later - Lucky is still doing great."
Nancy - USA
"My pug has always snuffled a lot which most flat nose dogs do naturally but his was getting worse and worse especially in the mornings and the evenings when we went for our walks. I became very concerned when he was struggling to breathe and my vet diagnosed asthma! I am a firm believer of natural remedies for people and so I figured that I would try your homeopathic pet chart. I have been treating my pug with one of the suggested remedies listed on the chart and now he runs around just like he used to! Thanks very much!"
B.W.
I bought a parrot and when we brought him home he began plucking all of his feathers out. Nothing we did helped. I ordered your homeopathy chart and only had to give the remedy I chose from the chart twice and he quit! He now has all of his beautiful feathers back. I can't believe it...
Gazelda, MA
See Our Other Pet Charts