We looked forward to reviewing this video (we review all products before we agree to sell them) because of the outstanding work the producer did on their previous major video: Sweet Misery.
Well, they did it again. This hard-hitting production wakes you up and inspires you to rethink your world-view. You will be amazed and empowered with knowledge directly from medical and legal experts.
If you want to understand how the world of food additives really works—or—if you already know and want to share this understanding with your friends and family, this video will help you intelligently convey the truth directly from numerous experts. This video covers:
Genetically Modified Foods
Artificial Sweeteners
Monosodium Glutamate (MSG)
Fluoride
Growth Hormones
And More...
The video also includes 4 special features:
About Ritalin (8 min 6 sec): Howard Glasser, MA, speaks about the successful treatment of childhood diseases such as ADD, ADHD and the effects of Ritalin. He took on Ritalin as an experiment and recorded his experiences related to it.


.

Rumsfeld and Pepsi (1 min 44 sec): Learn about the interesting relationship between former President Richard Nixon, former U.S. Defense Secretay Donald Rumsfeld, and former Pepsi Cola President Donald Kendall, and how these relationships affected the policies of Pepsi and your food supply.


.

Blaylock's Complete List (2 min 50 sec): Dr. Russell Blaylock, Neurosurgeon, teaches specifically how to protect yourself against the harmful effects of monosodium glutamate (MSG). He also give tips about detoxing the same.


.

FDA Raid (7 min 36 sec): Chronicles the FDA-gunpoint raid of Alpha-Omega Labs for selling certain alternative health substances.
Everyone Interested In Improving Their Quality-Of-Life


This video provides you with information you will not likely find anywhere else. This vital data will empower you to maintain a healthy lifestyle by learning what foods to avoid and why. Information is also provided about detoxing MSG.

Health Practitioners: Both Allopathic & Alternative


Understanding the food supply is fundamental to helping people maintain and/or regain health. This video will provide you with information you are unlikely to see anywhere else—information that will empower you to help others, such as, how to detox MSG.
This documentary-style video had us captivated and kept us glued to the screen while we reviewed it to determine if it was suitable to add to our line of products.
We particularly like the style of the video, which is comprised almost entirely of experts speaking on critical subjects about things you will not hear on the nightly news.
While reviewing the video, we realized that it would need to be viewed two or three times in order to absorb the volume of information it contains. It is densely-packed with information.
If you appreciate hearing experts speak directly and honestly about hard-hitting subjects related to health, or you enjoy watching government and corporate coverups being exposed, then this video will be very satisfying to you.
The producer allows the expert guests to speak out without interruption—which is how we think it should be. This wealth of information is delivered by the following specialists and first-hand witnesses in their fields:
Dr. Russell Blaylock
Dr. Joseph Mercola
Jim Turner, ESQ
Dr. Michael Ruff
Dr. Candace Pert
Noam Chomsky
Sheldon Rampart
Jeffrey Smith
Jack Samuels
Dr. Janet Starr Hull
Mary Nash Stoddard
Spice Williams-Crosby
Bob Wall
Larry Hagman
David Getoff
Howard Glasser
Sally Fallon
Robert Scott Bell
Arthur Evangelista
Betty Martini
Many More!
This video delivers an in-depth exposé on the most important subjects regarding our food supply—subjects you need to be aware of if you're truly interested in maintaining your health and helping friends and family maintain, or regain, theirs.
Subjects covered in the video include:
Genetically Modified Foods
Artificial Sweeteners
Monosodium Glutamate (MSG)
Growth Hormones
And More...
Below is a small sample of compelling quotes taken directly from expert testimony in the video.
James S. Turner, Esquire,
Consumer Attorney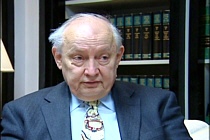 James S. Turner, Esquire,
Consumer Attorney
"Be on your toes. Do not believe that—just because—the FDA has said a product is safe and effective that it is either safe or effective."

"...the Commissioner [of the FDA] overruled all of the other decision-makers that had said it [NutraSweet] should not be marketed..."

"We have numerous instances of people calling the FDA [about NutraSweet], and saying "We feel there is a connection [to my illness]; What information do you have", and the person that answered the phone ...[told]... them "There is no connection between NutraSweet and side effects", and not taking any further information."

"...individuals [were] calling the FDA [about NutraSweet] and then being referred to the AIDS hotline. When the AIDS hotline was answered, the individual said "We're not taking NutraSweet calls because we don't get enough of them now to have an independent hotline for NutraSweet."

"One of the things that political scientists say quite frequently is: Very shortly after a regulatory agency is created, it gets captured by those it regulates. ...I think they're totally wrong. I believe they're born capture; They do not come into existence until the industry needs them."

"...[the FDA] treated MSG very peculiarly. They had a lot of evidence that MSG was a problem from it's staff. The Senate Select Committee on Nutrition and Human Needs held hearings on baby food, and they highlighted the problems with MSG, including the...research that had been generated by the FDA scientists. But, the commissioner of the FDA came foward to say he did not think it was causing any problems. Right in the middle of that set of exchanges, the Senior Nutritionists from Heintz Baby Food quit, and went public with an argument that MSG harms babies. So that created a political situation in which the companies needed to act in some way to quell the unrest that was being created by this debate."

"Dr. Olney and I were working in 1970—and had been for a couple of years—on getting MSG out of baby food, which we were successful in doing. The companies took it out after a lot of publicity and some senate hearings because MSG caused brain legions in monkeys, and that suggested that they could be responsible for some of the 95% of mental retardation that doesn't have any known cause. Also, Jon Maire—who was the nutrition advisor for president Nixon—also felt that MSG in baby food was dangerous. All that politics came together and they took it [MSG] out of baby food voluntarily. But there was one other aspect of the issue that I think had to be present for them to act, and that is that they took the MSG out of the [baby] food, but then they put in textured vegetable protein which is exactly the same in its effect as MSG."

"Monsanto bought Searle because it had NutraSweet. ...The president of the NutraSweet subdivision of Searle became the president of Monsanto. ...He had been involved in the process that manipulated FDA to let NutraSweet on the Market. ...He used the same techniques to get genetically-engineered food on the market."

"They [Monsanto] have managed to win lawsuits which say that companies that do not use the growth hormone [that Monsanto produces] in their milk-producing cattle, cannot advertise that fact."

Arthur Evangelista,
Former FDA Investigator


Arthur Evangelista,
Former FDA Investigator

"Whenever you hear that the FDA is the industries henchmen; That's a very accurate statement."

"The FDA made it appear as if they were listening to people [about NutraSweet. ...when they took... information, it got filed—nothing happened to it. I'll tell you that for a fact!"

So [the FDA]...made it all go away by setting up a different hotline, not documenting all of the phone calls properly, [and] not being able to give anybody any information. ...They were receiving data from the general public regarding Aspartame, and did absolutely nothing about it.

Dr. Russell Blaylock,
Neurosurgeon


Dr. Russell Blaylock,
Neurosurgeon

"All kinds of neurological and neurodegenerative diseases are increasing, and it's all based on the fact that we just keep adding more and more toxic influences—even before birth—...all the way...on into adulthood."

"If you have hereditary risk of MS [Multiple Sclerosis] but you don't have the disease, you may never get the disease. We know that there's about 10% of people out there which have findings of MS on autopsy but never develop the disease—we call it silent MS. But if that person with MS is consuming food with MSG [Monosodium Glutamate], and it starts killing off your oligodendrocites, then they're going to develop full-blown MS. So this makes plain why we're suddenly seeing all these cases of MS starting to appear: Because people are consuming Aspartame and MSG in huge amounts. ...The MS Society doesn't mention this—We've told them!"

"So let's just have a quick review of what MSG and excitotoxins do:

They are associated with neurodegenerative diseases,
They're associated with developmental abnormalities,
nervous system injury,
endocrine disorders,
Diabetes type I and II,
Syndrome X,
gross obesity,
enhanced cancer growth and spread,
immune disfunction,
retinal disorders,
Atherosclerosis,
Multiple Sclerosis,
Lupus and other autoimmune disorders,
GI disorders,
Sudden Cardiac Death."

"I'd put more on there [the slide] but I didn't have room."

"Every 10 years they double the amount of MSG that is put in food."

"We're developing a society—because of all these different toxins—...that not only has a lot more people of lower I.Q., but a lot fewer people of higher I.Q. ...a chemical dumbing-down of society."

"There's a new syndrom being described; Suddenly we're seeing this all over the United States: Syndrome "X", where people have a combination of hypertension, diabetes, elevated blood lipids, and obesity. What happens when you feed MSG to animals as infants? They develop diabetes; They develop elevated blood lipids and diabetes. In other words, they're developing Syndrome "X". If you feed it to them long enough, they'll develop hypertension. So, what were exactly reproducting in the experimental animals with MSG is Syndrome "X", which we're seeing an explosion of in the United States."
Dr. Joseph Mercola


Dr. Joseph Mercola

"MSG and Aspartame are not good for anyone. They are not good for humans. If you're human, you should avoid these things."

Larry Hagman,
Actor


Larry Hagman,
Actor

"It's [Stevia] 500-times sweeter than sugar."

"[If they outlaw Stevia,] I'll buy a couple barrels of this stuff."

Michael R Ruff,
Associate Research Professor,
Georgetown University Medical Center


Michael R Ruff,
Associate Research Professor,
Georgetown University Medical Center

"It's abundantly clear that the root causes of most cancers are probably due to toxins that have gotten into the food supply..."

Mary M. Stoddard,
Aspartame Consumer Safety Network


Mary M. Stoddard,
Aspartame Consumer Safety Network

"...I also saw the FDA come and just completely try to annihilate all of those statements that had been presented by these researchers...They were denegrated as researchers and their science was called junk science."

Dr. Audry Ricker,
PhD, Author


Dr. Audry Ricker,
PhD, Author

"Headaches, memory problems, insomnia, dizzyness, and vision problems including pain and pressure in the eyes: These findings are consistent with symptoms found to be caused by Aspartame—along with diarrhea, nightmares, nausea—in a study."

Dr. Cindy Gail,
Chiropractor


Dr. Cindy Gail,
Chiropractor

"When I discovered that MSG was actually addictive, and caused cravings, and it bypasses the appistat—that's the part of the brain that tells us when we're full—so you can eat an entire bag of Doritos without blinking an eye. ...and it causes you to become obese because it is literally given to lab mice and rats to cause obesity so they can study diet."

"This is something that's being added into our food specifically to make us buy more of their product."

Dr. Olney,
Free Glutamate Researcher


Dr. Olney,
Free Glutamate Researcher

"It is true that there is some Glutamate naturally contained in the proteins of our food, but that protein has to be digested before Glutamate can be released into the system, and that takes quite a period of time and so from that naturally-occuring Glutamate you don't get very high blood levels of Glutamate, but if you isolate the Glutamate from the protein—first as a chemical and then put it into the food—it's released immediately into the circulation and doesn't have to be digested first. That causes high peaks of Glutamate, ...which I believe causes brain damage in infant animals."

David J Getoff,
CCN, Naturopath,
Board Certified Nutritionist


David J Getoff,
CCN, Naturopath,
Board Certified Nutritionist

"There's a lot of people who think that the FDA does all sorts of research studies to determine if a drug does what it's supposed to do and isn't harmful. The FDA doesn't do studies. They accept the studies from the drug manufacturers, which again, is normally conflict of interest because the drug manufacturer is not going to give you the studies that show that the drug hurt a lot of people or doesn't work."

"That has actually come out in the press where a lot of studies were done on a certain drug that showed the placebo worked better. And they just kept on doing studies until they managed to get a couple that showed that the drug worked better, and those were the ones that the FDA got to look at."

"Once a drug has been approved by them (the FDA)—which doesn't mean it does what it's supposed to or that it's harmless—it just means there was enough information that they were willing to...sign off on it."

Howard Glasser, MA
Developer of
The Nutured Heart Approach


Howard Glasser, MA,
Developer of
The Nutured Heart Approach

"Ritalin is chemically identical to cocaine."

Robert Scott Bell, DA Hom,
Homeopathic Practitioner,
Radio Talk Show Host


Robert Scott Bell, DA Hom,
Homeopathic Practitioner,
Radio Talk Show Host

"There's a huge market out there for artificial sweeteners. ...Because sweeteners such as stevia—a natural plant-based sweetener that has no calories and no toxic effects whatsoever, the FDA—which on the radio I call the "Freedom Disallowed Association", doesn't allow [us] to make a claim for its use as a sweetener; It's a "dietary supplement" but nobody knows what it's for. We don't want to tell people what it could be used for, that could be dangerous—dangerous to who? —the companies that sell the artificial sweeteners..."

Jeffrey Smith,
Author, "Seeds of Deception"


Jeffrey Smith,
Author, "Seeds of Deception"

"Based on the increased awareness of the potential dangers [of genetically modified foods], the people in the U.K. said, "We don't want to eat them." ...So Unilever—Britian's largest food manufacturer—comitted to take all GM ingredients out of their european brands. Now this created a landslide. Within one week, every major food manufacturer followed suite—MacDonalds, Burger King, Nestle's, Safeway—for their european brands. ...However, they were still feeding their American consumers genetically modified ingredients, because in the United States, very few people even know what a genetically modified food is."

"More than 50% of [American] people surveyed said they've never eaten a genetically modified food in their lives, even though most eat it in every meal."

"The most common result of genetic engineering [in foods] is surprise side effects."
Following is the text as displayed on the back cover of the Sweet Remedy DVD package.
While aspartame was the single focus in "Sweet Misery: A Poisoned World," "Sweet Remedy" approaches our problematic food supply. Following a brief look at what happened with aspartame after its approval in 1983, "Sweet Remedy" examines how some people find ways to return to their lives after identifying their toxic issues.
A close examination of the U.S. Corporate power structure demonstrates that neurotoxic foods resulting in a dumber populace is simply a matter of policy. In the United States and through each nation within its global corporate grasp, maintaining a healthy mind and body is an act of civil disobedience.
Ultimately, healing has become the path of resistance for informed individuals. We interview a host of MD's and Natural Health practitioners to gain the clearest possible perspective for a path to recovery. Perhaps the sweetest remedy this film offers is the hope provided by witnessing a variety of groups as they withstand the confusion, casualties and obstacles involved with taking control of their food and their health.
Includes Dr. Russell Blaylock, Dr. Joseph Mercola, Jim Turner, ESQ, Professor Noam Chomsky, Dr. Michael Ruff, Dr. Candace Pert, Sheldon Rampart, Jeffrey Smith, Jack Samuels, Dr. Janet Starr Hull, Mary Nash Stoddard, Spice Williams-Crosby, Bob Wall, Larry Hagman, David Getoff, Howard Glasser, Sally Fallon, Robert Scott Bell, Arthur Evangelista, Betty Martini, and many more.