These successful NSP Distributors

choose to build their businesses with the HART NSP Master Reference book or HART On CD:


Toni & Bob Holland
NSP Managers of the Year (2005)

Most President's Trophy Winners
The NSP Managers of the Year for: 1999, 2000, 2001, 2002, 2003, 2005, 2006 & 2007

"Your tools, especially the footprints and hart books are the heart of our business. Everyone who purchases products gets a copy of what they have purchased. When we break out a mgr, they get their own books as a gift from us. And our downline has now done the same with their downline. We really love the spanish version also. We use and love the tools you have provided. Thanks!" —Toni and Bob Holland, 2005 NSP Managers of the Year
- Scientific/University Research
- NSP Product Pictures
- A to Z Ailment Reference
- Cautions and Contraindications


- Update Program
- Right-To-Copy License
- Hard-To-Find Information
- Compact and Padded
- Comfortable to Carry
The HART NSP Master Reference is the world's #1 NSP product reference.
It's a comprehensive, updatable, ring-bound product guide containing in-depth scientific and university research for all of NSP's herbal and nutritional products. Information is presented in an easy-to-understand manner, but does not sacrifice depth or scientific integerity.
The HART NSP Master Reference will build your customers' confidence and literally sell your products for you.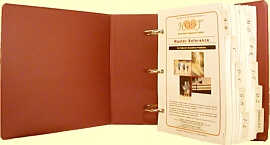 Scientific and University Research

This resource is a compilation of thousands of hours of research derived from numerous publications and universities including:
The Journal of the American Medical Association, The Journal of the National Cancer Institute, The American Journal of Clinical Nutrition, The British Journal of Cancer, The New England Journal of Medicine, Harvard Medical School, University of Maryland, Cornell University, University of California, University of Texas, Mount Sinai School of Medicine, Cambridge University...
Notable cautions and contraindications are included when available. Contraindications help you identify products that may interfere with or may not be safely used with certain medications.
| | | |
| --- | --- | --- |
| | | |
The HART NSP Master Reference provides you with the most complete herbal research available in one source on NSP's Chinese, Ayurvedic, South American and South Pacific herbs.
The HART NSP Master Reference contains an A-to-Z Ailment Reference containing ailment descriptions and associated products for over 250 ailments. This valuable section of the HART book allows you to find NSP products that are associated with any of the listed ailment.
The A-to-Z Ailment Reference is updated once yearly when you subscribe to the HART update subscription program.

Your HART book will never be outdated. You will receive 3 updates per year containing new NSP products and expanded research for existing products. Just insert the new pages into the HART book as instructed and your book is always up-to-date.
Additionally, the A-to-Z Ailment Index is expanded once-a-year to include more ailments and more detailed ailment information.
Compact, Comfortable and Fully Illustrated
The HART book is fully padded and includes a convenient inside pocket. The smaller size (9" x 9") makes the book easier to carry. Each NSP product page includes a picture of the associated product. Oversized holes and large 3-inch D-rings make reading and turning pages easier. A paper protector keeps your pages flat when the book is stored upright.
Many products contain a listing of additional supplements that complement the product or are related in function. This helps you quickly locate products that may be better suited for a particular client.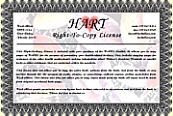 The HART NSP Master Reference includes the limited right to copy pages and distribute them to your customers. Our goal is to help you educate yourself and your customers and enhance the credibility of natural supplements.
As many HART testimonials indicate, the HART book will literally sell products for you. Many have built their NSP businesses by giving out HART book pages to prospective customers.
What People Are Saying About
The HART NSP Master Reference
These are actual quotes from our customers!
"I must thoroughly congratulate you on your excellent work with all the valuable information that you have gathered about so many herbs, vitamins and minerals. Not only has it been so educational to me but it is very reassuring to my clients to understand what they are taking and how it will help them with their specific health issue.

You definitely have left and will leave your mark on many lives. I greatly appreciate the countless hours you have spent on this project."

Lourdes M.
Sunnyvale, California
"I tell everyone [that's an NSP distributor] that they have to have the HART [NSP Master Reference] book and the Footprints [On the Path] book. I keep them near the phone so I can look things up when customers call. I'm more impressive over the phone than in person because of these books. I use these books more than any other tools in my store."

Russell H., ND and Diana H., ND
Elkhart, Indiana
"I used to spend days researching a new NSP product. Now the work is done for me thanks to the HART book. Thank you!"

Ginny I.
Greensboro, North Carolina
"It's wonderful! I wouldn't give it up for anything! Any time I have a question or need to check something, it's the source that I go to."

Myrna S
Inman, Kansas
I absolutely could not believe the content that this book holds, the information inside is endless. ...In making my client's Program Plan I instantly found myself reaching for the HART book first..."

Rocky M.
Brockport, New York
"...Very useful [for] finding the proper selection of herbs and how they can be used... The information is very complete. We really appreciate that the information is written in words that we can understand..."

Patricia W.
Edmond, Oklahoma
"Your book is so thorough. I just love it! I read about a new herb every day from your book. I have been a distributor for a long time, and am familiar with the herbs, however, your book is so full of good, additional information, I just feel inspired to add to my knowledge."

Patty B.
Phoenix, Arizona
"I can't tell you how many additional sales I've gotten from the HART book. This HART book has refreshed my knowledge on the products. ...The 1st lady I used the HART book with, I showed her the HART information and she went ahead and bought all the products."
Karin K.
Oklahoma City, Oklahoma
"Such a wonderful resource, I live by your [HART] book. Your book has saved my bacon many a time - I just give someone a page and say, "Here, read the information for yourself.""
Paula R.
Thornton, Colorado
"I know one—possibly two—people who are alive today because of your [HART] book."
Comment from
NSP National Convention
"On several occasions I've given a customer a copy of a page. I'd watch them go out and get in their car while reading it. Then, they actually get back out of their car, come in the store, and buy the product. It's really amazing."
Comment from
NSP National Convention
Anonymous Testimonials
These are actual quotes from conventions and phone calls.
"The book is written in such a way that it is as effective for a customer who knows nothing about herbs as it is for a doctor, who will respect it for the referenced research."
"It doesn't get any better than this. ...Solid, fully-referenced information gives me confidence giving copies of pages to my customers. It actually makes me proud to sell herbs!"
"I copied a page for one of my customer's doctor who has always been aggressively opposed to anything 'herbal'. The doctor actually called me and apologized and said he's going to look into what [the product] can do for his patient!! Can you believe that?
"I honestly don't know what I'd do without it! Now it's so easy to help people. I just give them a page and wait until they come back and buy some herbs."
We have included a few sample pages here to help you get an idea of how the HART book is written.
Ginkgo Biloba
Extract
Elderberry
Defense
Guardian
We believe this book is perfectly suited for the following people:
NSP Distributors
This book was written exclusively for you. Material is presented in a way that is in-depth enough to give to a medial professional (doctor) while still being easily readable by someone who has no background in herbs. It is designed to educate, and thereby, to sell supplements for you.
Many very successful NSP Distributors have built their business using this book only.