HART On CD
The World's #1 Computer Product Reference
for Nature's Sunshine Products!


by Herb Allure
On Sale $199 - While Supplies Last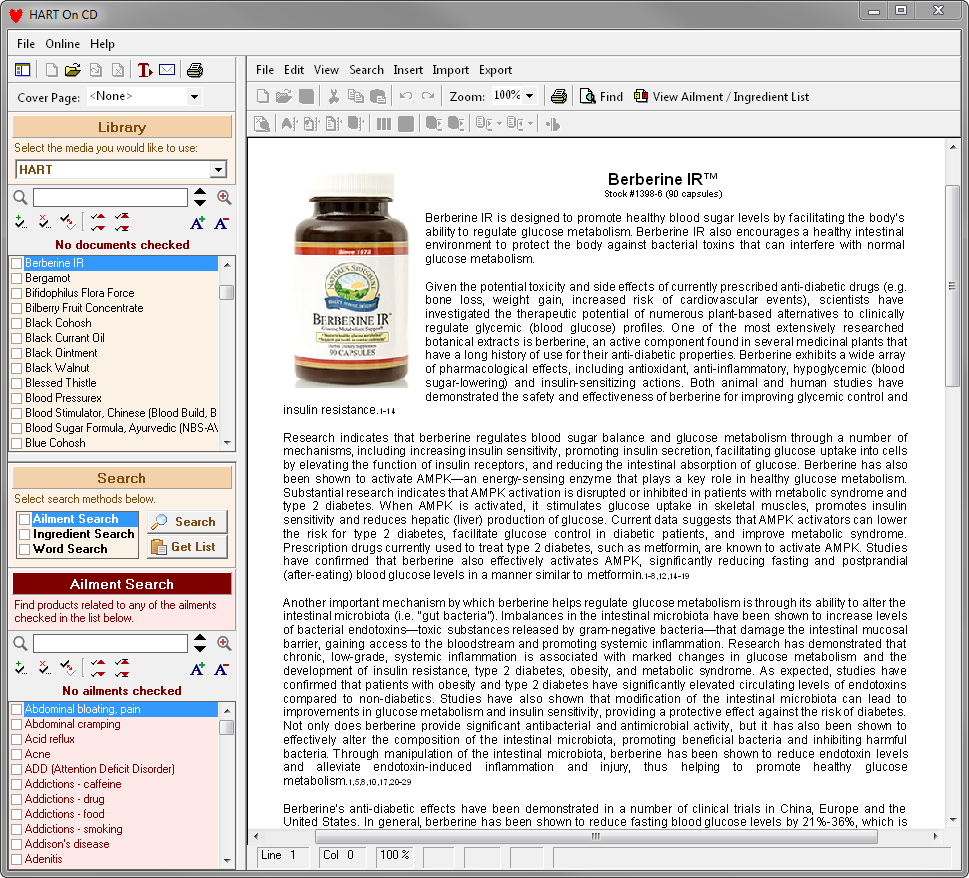 Cat# HOCD - Price $249
Sale $199 ($50 Off) (by download only)
Computer Program
Click the image above to play the video.
Click here to view a larger version of this video.
These successful NSP Distributors use HART On CD or the NSP Master Reference to build their NSP businesses:
Most President's Trophy Winners
The NSP Managers of the Year for 1999, 2000, 2001, 2002, 2003, 2005, 2006, 2007, 2008, 2009, 2011, 2014, 2016 & 2018.

Toni & Bob Holland: NSP Managers of the Year (2005)
"Your tools, especially the Footprints and HART books are the heart of our business. Everyone who purchases products gets a copy of what they have purchased. When we break out a mgr, they get their own books as a gift from us. And our downline has now done the same with their downline. We really love the Spanish version also. We use and love the tools you have provided. Thanks!"
—Toni and Bob Holland, 2005 NSP Managers of the Year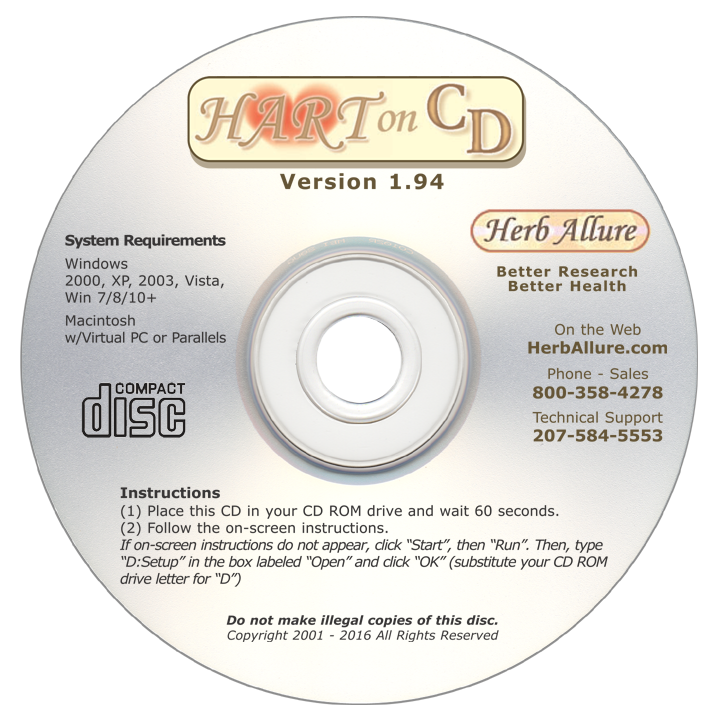 The most requested product we've ever produced!
Educates Customers: Provides detailed scientific and university research on ALL NSP supplements, essential oils, & flower essences.
Sells Products for You: Quickly print customized multi-product info-paks for your customers.
Educate Yourself: Powerful search capabilities empower you to build your knowledge and find anything instantly.
The World is Your Storefront: E-Mail product reference sheets quickly & easily. Customers easily view them with a single click.
All Your Research in One Place: Create, import, print, & search your own unlimited library of information.
Seeing is Buying: High-resolution color NSP product pictures allow customers to see the products they're learning about.
No Computer Geniuses Required: Very easy to use & includes super-simple online video tutorials.
The best investment you'll ever make in your business!
Note: All orders for the HART On CD program will receive FREE software updates AND FREE NSP document updates through version 2.0.
Educates Customers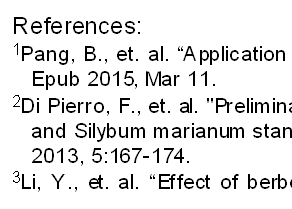 The key to selling supplements is educating your customers.
The HART On CD program educates your customers for you by providing detailed scientific and university research on ALL NSP supplements, essential oils, & flower essences. Nearly all research is referenced.
The research is in-depth yet easy to read. Many credit HART On CD product sheets for converting doctors from cynical to pro-supplement in minutes.
Sells Products for You
Many excited NSP Distributors have told us that they built their businesses by simply handing out HART On CD product reference sheets.
Customers read the sheets, get excited about products, and buy. In short, educating customers builds your business.
Educate Yourself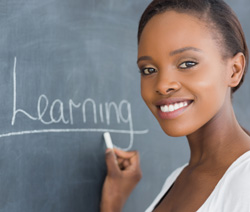 Many tell us they didn't know anything when they first became NSP Distributors.
After reading HART On CD product reference sheets, Distributors feel confident and are highly-regarded for being knowledgeable in their field.
The World is Your Storefront
Reach potential customers anywhere in the world.
You are no longer limited to customers in your area. With HART On CD, you can easily email product reference sheets anywhere.
All Your Research in One Place

With HART On CD, you can create and import documents. This empowers you to build your own custom library of fully-searchable and printable articles, references, notes, research, or anything you want. It's as easy as using a word processor.
Seeing is Buying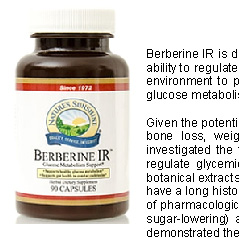 We all know how important it is that customers can see the products they are considering buying.
The HART On CD program provides big, beautiful color pictures so customers can feel connected with the product they're learning about.
No Computer Geniuses Required
HART On CD could not be easier to use.
To open a document, just click on it.
To print a document, just click the "print" button.
To see what ailments a product is used for, just click a button.
To see what ingredients a product contains, just click a button.
HART On CD provides several video tutorials to make using the program as easy as it could possibly be.
What People Are Saying About HART On CD
"I must thoroughly congratulate you on your excellent work with all the valuable information that you have gathered about so many herbs, vitamins and minerals. Not only has it been so educational to me but it is very reassuring to my clients to understand what they are taking and how it will help them with their specific health issue.

You definitely have left and will leave your mark on many lives. I greatly appreciate the countless hours you have spent on this project."

Lourdes M.
Sunnyvale, California
"The Hart On CD is a great asset... I use it on a daily basis... It provides good information... Really good search features. Thank-you..."

Herman F.
Winkler Manitoba, Canada
"I love the program and would recommend it to everyone. Not only is it great for NSP distributors, but for health conscious consumers as well."

Leslie H.
Prunedale, California
"It's the best darn program ever....worth it's weight in gold. After seeing the information, most doctors are willing to let their patients (...also my clients) take what I recommend."

Dr. Jack H.
Uvalde, Texas
"In our responsibility to educate customers, we greatly appreciate Herb Allure because of the historical and scientific herb details given, numerous references and especially because it can be printed out, taken home and inform the spouse and even Grandma on the wonderful benefits of the Creator's herbs."
Jim & Linda Jenks,
NSP Senior National Managers, Nevada
"I love the HART On CD because you have the science and that's what people want! There are people who actually have a brain in their head and they really do want the science for what they're using, that's why I love having HART On CD because I get some real "meat" that I can share, not just generic info!"
Annette B.,
New Hampshire

"I absolutely love my HART book in hardcover as well as in CD form. My customers are scattered around the country and I use the CD Program to email them the pages of supplements which they should be considering. This allows them to make informed choices and take more responsibility for their health. My HART book also lends more credibility to me in my customers eyes."
Carla R.
Michigan

"I love the new email function; it's working just beautifully."
Sharon H.
Yorktown, Virginia
"Wonderful program. My store would be lost without it."
Ronda J.
Watervliet, Michigan

"I love it! It is exactly what I was looking for. ...It is extremely valuable to what I do; my clients love to read those sheets after the testing, as it confirms that, what they tested for is truly what they need."
Wendy K.
Webster, New York
"Just a note to tell you how valuable you have made your Hart On CD!!!!
Since you have offered the e-mail option, my time with my patients are given to them, not printing off page after page of material I want to arm them with. Thank you for making this an option!

After my patient leaves, I e-mail them the products I have suggested - from your program and they read them leisurely. This is very valuable to my office and to my patients! Also when promoting an NSP product. I just drop the info in each patients e-mail. Thank you so much."
Karen M. ND, BSNH, Herbalist
New Buffalo, Michigan

"I just love your [HART On CD] program. It's so user friendly!"
Debbie W.
Pleasanton, California
"I wanted to say Thank You for your wonderful product, Hart on CD. I can't tell you how much I appreciate it and that you are so committed to keeping it up to date with my NSP products. ...Keep up the good work, it is truly appreciated. May God bless you greatly!"
Michele,
New Port Richey, Florida
"Thank you so much for sending on my email request for tech support. I am having trouble with my air card and some dead spots in my home, but didn't realize that until I talked with Russ Tanner."
"I've spoken to him twice now, and both times he was a wealth of patience and information. Thank you for sending my email request on to him, and thanks for your product. It's well-worth every penny, as I am very new to NSP, and don't have a command of their product line by a long shot! I'm very appreciative of your software and the support it is to my new business."
Sally,
Greeley, Colorado
"Just can not say enough good things about this program and all you and your staff do to keep us informed and up to dated. This is more than worth the cost to purchase for anyone who really wants to give a good informational sheet of what product is made of so they can share with their Dr. if they want to. Thanks again for all you do."
Shiella, F.
Moline, Illoinis
"We LOVE this program! It is awesome! God bless you for putting it together. "
Lisa,
Apopka, Florida
Anonymous Testimonials
"This program is awesome! I love the way you can search for anything you want and then print a bunch of pages out at one time."
"I love the ways it's laid out. It's easy to understand and simple, yet provides really flexible search and print capabilities."

"You guys did it again!!"
"You have a customer for life! It really is a pleasure dealing with people like you."
"We've waited so long for this. This program is gonna' help us build our business like nothin' else we have."
Here are a few sample pages to help you get an idea of how HART On CD documents appear when printed or viewed on your computer screen.
When printed, these documents are 8½" x 11".
| | | |
| --- | --- | --- |
| AnxiousLess | Berberine IR | Breath Deep |
| | | |
We believe the HART On CD program is perfectly suited for:
NSP Distributors
This product was written exclusively for you. NSP product information is presented in a way that is technical enough to give to a medical professional (doctor) while still being easily readable by someone who has no background in natural health. HART On CD is designed to educate, and thereby, to help sell supplements for you.
Many very successful NSP Distributors have built their businesses using HART On CD.
NSP Customers
Be empowered to make your own decisions about the products you want to take. HART On CD puts all the best in-depth information for NSP products at your fingertips.
Natural Health Professionals
Even if you don't sell Nature's Sunshine Products, HART On CD provides an unprecedented volume of easy-to-search information about herbs, vitamins, minerals, essential oils, and flower essences. This vast array of information will help you regardless of which brand(s) of supplements you distribute.
Everyone
Learn more about natural health supplements and essential oils from the world's most reliable sources. HART On CD provides an unprecedented volume of easy-to-search information about herbs, vitamins, minerals, essential oils, and flower essences. Use HART On CD to educate yourself and your family so you can make informed decisions about your health.Top
System Requirements
HART On CD runs on the following operating systems
Windows
HART On CD is a native Windows program and runs on all versions of Windows from Windows 2000 to Windows 11 (and beyond).
The HART On CD program will work with all devices that use Windows.
Technical Support Policy
If you need tech support, we can help.
Herb Allure tech support will be happy to help you install, update, or repair your HART On CD program. We can also install HART On CD on your Mac computer.
Rates
Each copy of the HART On CD program you purchase includes one free tech support session. Subsequent sessions are $7.50 for each 15 minutes of support time.
HART On CD licensing follows the industry standard licensing model for most consumer computer software. This is the same licensing model used by Microsoft and nearly all producers of consumer software.
This software is licensed for use on a single computer.
You may move your license to another computer at any time by uninstalling HART On CD from the original computer and installing it on your new computer, and then calling the Herb Allure technical support line for a "Remote Authorization" key (takes about 2 minutes).
You may view our standard EULA (End User License Agreement) by clicking on the following link: EULA. For more information on EULAs, visit Wikipedia's EULA page.