Welcome to Herb Allure...
We supply the world's finest alternative health education & support books, videos and courses. Our unique inventory is hand-selected for Nature's Sunshine (NSP) Distributors, Natural Health Professionals, and for absolutely everyone interested in improving the quality of their life and health, naturally.
Available For A Limited Time
Additional 15% OFF - Ends Sunday !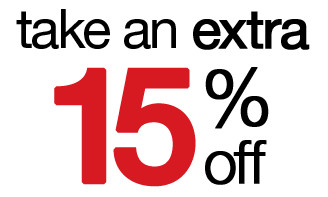 This may be your last chance to get these
epic business-building tools.
When they're gone, they're gone!
HART Book for NSP- 15% OFF - Only $84.15
thru Sunday, December 10th, 6pm ET
HART NSP Master Reference - Perfect Bound Softcover Book
Contains ALL NSP supplements.
Over 700 pages of in-depth NSP product information.
This is the book that started it all.
More Info...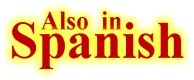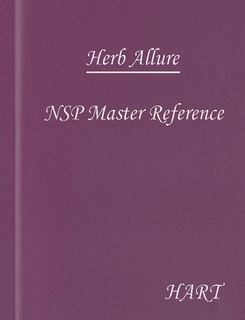 HART E-Book - On Sale $99
HART NSP Master Reference - E-Book for Portable Devices
For Android, iPhone, Kindle, PC & Mac Computers (and more)
Contains over 1200 pages of detailed, scientific NSP
product information you can take with you everywhere.
More Info...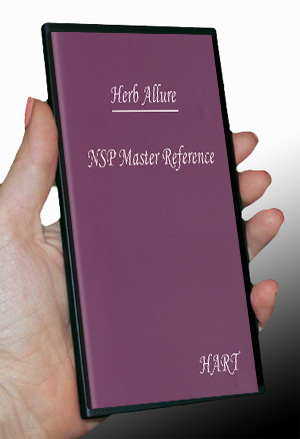 HART On CD - On Sale $199
HART NSP Master Reference - Computer Program
For Windows and Mac desktop/laptop computers.
Contains ALL NSP supplements.
Includes ailments, ingredients, and word-search.
Print & e-mail documents anywhere.
More Info...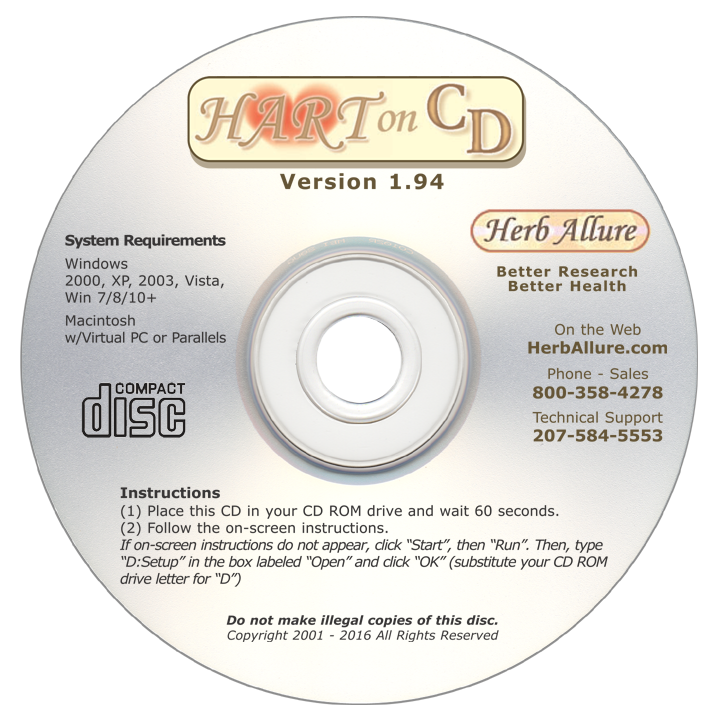 NSP Shelf Tags ("Shelf Talkers")
NSP product labels for your shelves
New 2023 Prices Available
HART On Web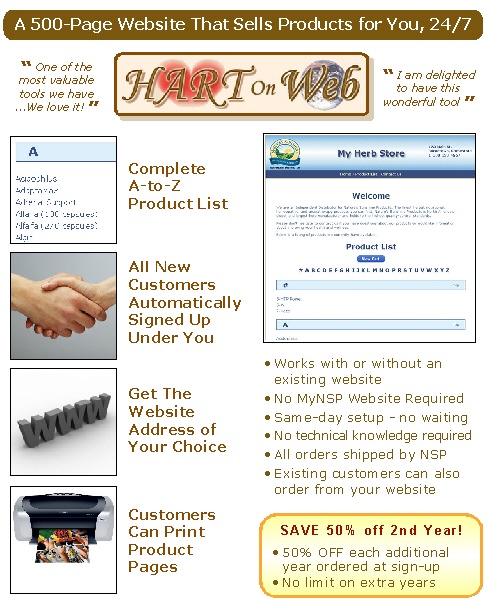 HART On Web Testimonial
"When I finally decided to go ahead & invest in my "HART on web" website (from Herb Allure), I put a link to it through my main website & really started driving people there, encouraging them to read & learn about the products I was suggesting, BEFORE placing their order.
Well, once they read about their products, many were curios & went on to read about other NSP products.
Well, it's amazing how the purchase of 1 or 2 extra products from each client adds up.
I went from an average of $3000 a month in (online) sales to $5000 the very next month! And it has been consistently going up.
I'm now seeing more people order online and others re-ordering who haven't ordered for a while.
The only regret? I should have gotten a HART website a year ago when I first learned about it!"
Kim,
Kissimmee, FL
Read More about HART On Web...
Watch the Introductory Video...
Our Most Popular Products
Check Out Our Most Popular Products
| | |
| --- | --- |
| | Electronic A-to-Z Ailment Guide for NSP Products. This handy e-Book is contains 250+ health topics. A must-have for new distributors and NSP customers alike! Works on Kindle, Android, iPhone, iPad, Blackberry, PC, Mac and others. more... |
Newest Products
The Newest Additions To Our Product Line ()
| | |
| --- | --- |
| | NSP product labels for your shelves. Customers get educated while shopping! Saves you time...No more pricing every product! more... |
Become A Certified Aromatherapist
(New Online Courses Available)

Welcome to the JennScents® Aromaversity™ – your online university for aromatherapy certifications and skilled trade training in essential oils and phyto-aromatherapy custom blending skill development. The JennScents® Aromatherapy Certification Course Program is a 368-hour online, home-study program for everyone from aromatherapy beginners and enthusiasts to clinical professionals and those wanting to integrate aromatherapy into their business.
Holistic Aromatherapy Comprehensive Guide

Your "Everything" Aromatherapy Guide for the aromatherapy enthusiast! Includes information about history, folklore, doctrine of signatures, safety, quality, application methods, over 100 essential oil profiles, over 35 carrier profiles, chemistry, blending techniques, over 65 recipes and more...
Meet Some Of Our Authors
()

Steven Horne
Reknowned health educator Steven Horne is an icon in his field. See his life-changing books & courses! more...
Hot Products
Currently Popular Products ()
| | |
| --- | --- |
| | Everything you need to protect yourself and defend your decision to say no to vaccines. It also contains forms, laws, statistics, and information that will help you educate your loved ones. more... |
| | |
| --- | --- |
| | Could you be suffering from "hidden" toxicities? Heavy metal toxicity is one of the most prevalent causes of modern disease. Learn about the myriad of effects of heavy metals and how to interpret hair analysis test results. more... |
Protect Your Health Freedoms
Freedom Isn't Free — Let's Work Together
News & Information
Things You May Want To Know About
| | |
| --- | --- |
| | Airborne aluminum, barium, and strontium just may be the new cause of numerous diseases and conditions worldwide. more... |
| | |
| --- | --- |
| | Take a moment to educate yourself about these important health-related issues. Be part of the solution. Go now... |
| | |
| --- | --- |
| | We do! This is why we're always searching for new products that help people. Do you have one? Please drop us a line and let us know how you'd like to become part of the solution. Contact us... |
Visit the Herb Allure Reference
Thanks for visiting! Come back soon.
Nature's Sunshine Business Building
Build NSP Business
Building NSP Businesses
NSP Business Tools
Return Policy / Privacy Policy