Home > Hot Topics > Mercury Amalgam > Mercury Battle > Table of Contents
Mercury Battle
Oh, by the way... Mercury Is Highly Toxic!
I often tell people that I would give everything I own to have my "silver" fillings removed if I knew it would change my life the way it did. Fortunately, I didn't have to give everything I own, but what I did pay to have them replaced was very, very small in comparison to what I received... My Life Back!
We Want to Post Your Story!

Check out our "Mercury Stories" forum where we let selected people have their own area dedicated to their story. This is a great way to help others who are searching for answers. Would you like to post your story?

Please contact me for more information at russ@herballure.com.
PDF Version
I've had many requests to have this story available in PDF so it can be easily printed and distributed. Well, here it is!
Please feel free to share this story with anyone you know who has "silver" fillings or is considering having it placed in their children.
Table of Contents
Because this is a long story, I have provided a way for you to jump to the parts that may most interest you by forming a table of contents, below.
Just in case you're interested, here is the dentist that replaced my fillings. As you'll read in the story, not only is he an excellent dentist, but is extremely knowledgeable about the issue of amalgams and mercury toxicity (and no, I don't receive any compensation for saying so).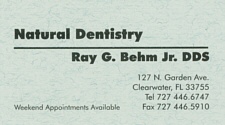 If you have any questions or comments, feel free to e-mail me (Russ) or Laura or, visit the Herb Allure forum section devoted to amalgam awareness!
<< Previous Page - Next Page >>